Snr Distribution Belt Kit For Fiat Ducato Iveco Daily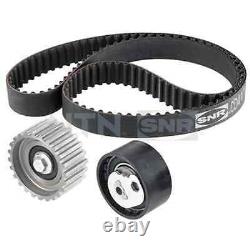 Snr distribution belt kit for fiat ducato iveco daily. This product sheet has been automatically translated. If you have any questions, please do not hesitate to contact us. Distribution kit snr for fiat ducato iveco daily. 1 set of curved belts snr. See technical information and the table of vehicles. Number of teeth 1: 178, number of belts: 1, number of pebbles: 2, width 1: 30, number of pebbles: 2 - technical information.
Note on the accuracy of the adjustment. Please check the compatibility of the items before paying an order. As soon as an order has been paid, it is automatically shipped so that the goods reach you as quickly as possible. If you are not sure, send us your vehicle data before paying so that we can check your order and correct it if necessary. To check your order, we need the kba number.
From your grey card, the chassis number (e-number) and the date of first registration. In some cases, additional information is required to reliably identify the required spare part. Saving on consumables such as paper and ink/toner saves valuable environmental resources. In addition, you no longer have to worry about storing, filing and searching your bill. Please note that it is not possible to change the delivery address after payment, as we release and forward orders directly for shipment. Note on the tracking number. Information on the disposal of waste renet oils autoteil netzwerk gmbh. Waste oils are both flammable liquids and pollutants for water.
After use, oils have their place in a point of collection of used oils! Incorrect disposal of waste oil puts the environment at risk! Any mixture of foreign substances such as solvents, brake and cooling fluids is prohibited. Our waste oil collection point, named below, accepts used combustion engine or gearbox oils free of charge up to the amount of combustion engine or gearbox oils discounted on a case-by-case basis.
Renet autoteile netzwerk gmbh c/o jakobs wütschner gmbh john f. Kennedystrasse 7 55743 idar-oberstein in principle, used oil can also be returned to gas stations or recycling points e.
Recycling centre; possibly possible on payment. You can usually find out if your local recycling point accepts used oils on site or from the municipal information office responsible. If necessary, we can also designate a collection point for used oils where you can get rid of your used oil.
Notes on the battery law. The following information is intended for those who use batteries and no longer sell them in the form provided to them (end users): 1. Free recovery of old batteries batteries should not be disposed of with household waste. You are legally obliged to return used batteries. As a battery distributor, we are required to take back used batteries (with the exception of products with used batteries installed), our obligation to take back only used batteries of the type we have or have used as new batteries in our range and the quantity that end-users usually dispose of. You can either return the old batteries to us with sufficient postage or return them to our shipping warehouse for free at the following address: renet autoteile netzwerk gmbh c/o jakobs wütschner gmbh john f. Kennedystrasse 7 55743 idar-oberstein 2. Meaning of the battery symbols the batteries are marked with the symbol of a barred trash (see below). The contaminated batteries are specially marked with chemical symbols. For batteries containing more than 0.0005 % by mass of mercury, more than 0.002 % by mass of cadmium or more than 0.004 % by mass of lead, the chemical name of the pollutant used is under the symbol of the trash - "cd" means for cadmium, "pb" means lead and "hg" means mercury. You have the option of rereading this information in the accompanying documents or in the manufacturer's instructions for use. 12.01 - 07.06.
01.03 - 05.06. 29l 10v (alja43a2, alja42a2, alja41a2). 09.02 - 07.07. 29l 12v (alka41a2, alla52a2, alka42a2). 35 s 10 anja41a1, anja42a2, anja42ab, anja43a, anjav1a...
35c 12v, 35s 12v agka43a2, agkb43a2, agkb46a2... 29 l 10 aljav1a1, alja41aa, alja41a1, ahja64a1...
09.02 - 04.06. 35c 10v, 35s 10v amja14a1, amja64a1, amja65a1...
35c12, 35s12 aeka14a1, aeka14aa, aeka64a1... 05.06 - 08.11. 35s14c, 35s14c/p, 35s14v, 35s14v/p, 35c14v... 07.07 - 08.11. 35c13, 35c13/p, 35s13d, 35s13, 35s13/p.
29s11, 29l11, 35c11, 35s11, 40c11. 09.11 - 02.14.
29s13, 29l13, 35c13, 35s13, 40c13, 40s13. 29l15v, 35s15v, 35c15lv, 40c15lv, 50c15lv. 26l11, 29l11, 29s11, 35c11d, 35s11, 40c11. 29s13, 29l13, 29l13d, 35s13, 35c13d, 40c13.
35c15, 35s15, 40c15, 45c15, 50c15, 60c15, 65c15, 70c15. 29l15, 35s15, 35c15, 40c15, 50c15. 33s16, 35s16, 35c16, 40c16, 50c16.
Thank you for your interest in our products, your team of cheap automotive parts. This item is in the category "auto, motorcycle - parts, accessories\ automobile: parts and accessories\motors and parts\distribution: kits and components\distribution kits". The seller is "auto-preiswert" and is located in this country: de. This item can be shipped to the following country: European Union.
Manufacturer part number: kd458.47 Manufacturer/Supplier parts: auto parts price
reference number(s) oe/oem: iveco: 504010846, iveco: 5802102036, true 500371975
Item number: 16085606
manufacturer: snr
Mark: - no mark/generic -