Sketch Inspection Filter Liqui Moly Oil 6l 5w-40 For Fiat Ducato Bus 244 Z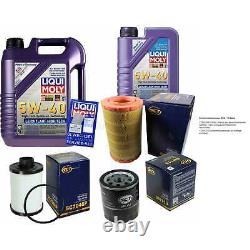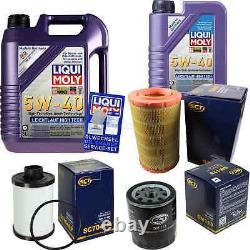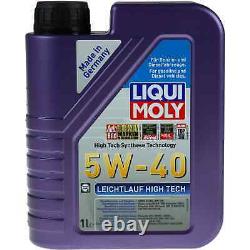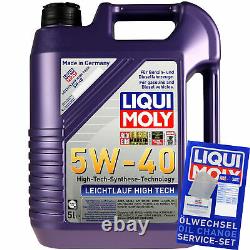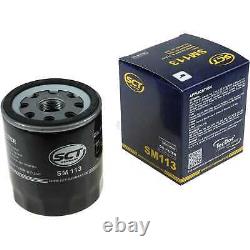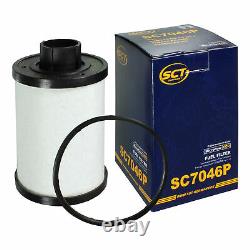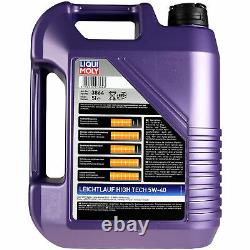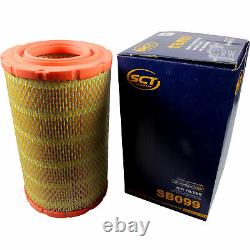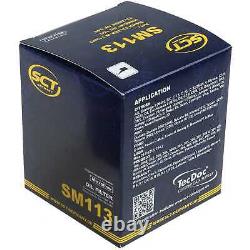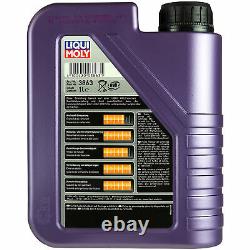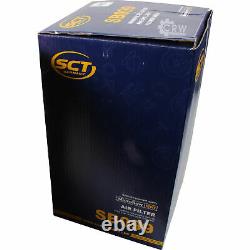 Sketch inspection filter liqui moly oil 6l 5w-40 for fiat ducato bus 244 z. This product sheet has been automatically translated. If you have any questions, please contact us. 1x original liqui moly leichtlauf high tech 5w-40 plastic can 5 l. 1x original sct air filter. 1x original sct oil filter. 1x original sct fuel filter. 1x liqui moly leichtlauf high tech 5w-40 plastic can 1 l. Liqui moly leichtlauf high tech 5w-40. Recommendation from the oil manufacturer. Peugeot citroen (psa) b71 2294.
Peugeot citroen (psa) b71 2296. Leichtlauf high tech 5w-40 is a year-round oil for modern gasoline engines and diesel engines with multi-soup technology and turbocharger as well as with and without supercharged air cooling (llk). Particularly suited to long oil drain intervals and high engine requirements.
Tested on turbo and catalytic converter. Can be used for gasoline vehicles and diesel vehicles without diesel particulate filters. State-of-the-art low-friction engine oil for gasoline and diesel engines without diesel particulate filter (dpf). The combination of unconventional base oils based on synthetic technology and the latest additive technology ensures engine oil that reduces oil and fuel consumption and ensures rapid engine lubrication. According to the manufacturer's instructions, oil drain intervals of up to 40,000 km can be reached.
As part of the sale of combustion engine oil or transmission oil and oil filters, we, as dealers, are required to provide information on relevant regulations and obligations in accordance with the regulations on used oils. We would like to point out that used oil or oil filters and oil-containing waste that occur regularly during oil drains are hazardous products that must be disposed of in an environmentally friendly manner. You can return the same amount of used oil to our point of sale for free during business hours as the fresh oil you bought us, as well as oil filters and oily waste that regularly occur during oil emptying, or send it to us for free disposal at your expense in an approved package for the transport of dangerous goods.
Used oil must be marked as a dangerous commodity during shipping. It cannot be shipped by parcel service without special packaging.
Each cartridge must first be welded into an extra-thick sheet box insert. Shipping can only take place in a special box for dangerous goods in accordance with iata regulations.
In addition, the packaging must contain an approved absorbent material. For more accurate packing instructions and shipping prices, please contact your parcel service. The cost of packing and shipping is the responsibility of the buyer.
Alternatively, the return of used oil is also possible at gas stations or recycling centres, such as recycling centres or scrap metal processing. Your workshop can also remove used oil when you change the oil. Ideal for modern gasoline and diesel engines with multi-soup technology and turbocharger, as well as with and without overcharing air cooling (intercooling).
The operating rules of vehicle and engine manufacturers must be respected. Can be mixed with commercially available engine oils - regular engine operation - excellent engine cleanliness - high shear stability - saves fuel and reduces emissions of pollutants - turbo and catalytic converter tested - excellent protection against wear - excellent lubrication safety - long life of the engine - optimal stability at ageing - optimal oil pressure in allen operating conditions - fast oil supply at low temperatures. M 20 x 1.5. Opening pressure of the bypass valve. Chrysler ms-10725 chrysler ms-10850 fiat 9.55535-h2 fiat 9.55535-m2 fiat 9.55535-n2 fiat 9.55535-z2 opel gm-ll-b-025 psa b71 2294 psa b71 2296.
Acea a3 acea b4 api cf api sn bmw longlife-01 mb approval 229.5 porsche a40 renault rn 0700 renault rn 0710 vw 502 00 vw 505 00. Original spare room number (oe). 95.638.747; 96002 933; 95.495.621; 1109 ca; 1109-38; 000-592; 1109-l0; 95580 482.80; 93.516.538; e149102; 1109 A. 1109-r1; 1109 al; 1109-x1; 96086 668.80; 95.495.622; 1109-39; 1109-j8; 1109-n5; 95580 483; 1109 a; 1109-s8; 96.371.434 80; 1109 x6; 1906-98; 1444-99; 1109-k2; 1109-n3; 1109 t1; 1109-x2; 95580 482; 1109-j9. 115 217 5137; 1285 0069.
1285 0069; 115 217 5137. 9456183480; 77362340; 7910031245; 9628173380; 1310636080; 9567205780; 9456203480; 77363600; 9456000927; 9456203580. 5011 991; 1890 364; 4m5q 6714 ca; 5011 788; 1339 125. Api sn; renault rn 0710; acea b4; porsche a40; bmw longlife-01; vw 502,00; api cf; renault rn 0700; acea a3; mb 229.5; vw 505 00.
115.2175.102; 2175.131.115; 2175.102; 115.2175.131; 2175.137; 2175.131. 3864; sm 113; sb 099; sc 7046 pp.
8135690; 93181377; 4807214; 813 569. 1109-r0; 1109 a; 1109-t0; 1109-75; 1444-a0; 1109-c2; 1109-n4; 1109-s7; 96 200 299 80; 1109 x5; 1109-67; 1906-97; 1109-84; 1109-k1; 1109-n2; 1109 ca; 1109-81; 1109-l0; e149102; 95 580 483 80; 1109 A.
9644885480; 1109-68; 1109-86; 1109-r1; 96 086 668 80; 1109 al; 1109-51; 1109-82; 1109-lo. 7.700.734.825; 7,701,415,056; 7.700.867.454; 7.700.734.937; 7,701,415,063; 8 671 001 3812; 7.700 720.978; 7,701,349,942; 9.615.841.580; 7.700.856.339; 8 671 004 329.
15411-84e50; 16510-66g00-000; 16510-86cb0; 16510-86z00-000; 16510-86ca0; 16510-86cb1-000; 15411-84e60; 16510-66g02; 16510-86cb0-000; 16510-66g00; 16510-86ca0-000; 16510-86z00; 15411-t84e60; 16510-66g02-000; 16510-86cb1. 95 580 482 80; e 495 622 80. These figures are only for comparison purposes. Security data sheet available on request. The original coin numbers oe no.
Are used as reference numbers for comparison purposes and may differ. All logos, brand names and trademarks used are the property of their owners. All products are quality checked.
Usually everything is in stock - so no waiting. 1 month's right of withdrawal.
24-month warranty on new products. 12 months guarantee on second-hand goods. Our service does not stop at selling goods for you. Qrparts24 box acea a3 acea b4 sn api cf porsche a40 vw 502 00 vw 505 00 content 5 quantity 5 liters acea a3 acea b4 api cf sn api 5w40 application manufacturer liqui molly diameter 2 size manufacturer sct diameter 1 diameter 2 m20 x 1 ,5 size 1.5 bar manufacturer sct diameter 1 size manufacturer sct box acea a3 acea b4 sn api cf vw 502 00 vw 505 00 content 1 l quantity 1 liter 5w40 manufacturer liqui moly citroon: daihatsu: dec: ean: decree: ford: hyundai: nissan: no.
Opel: peugeot: piaggio: 493063 renault: ssangyong: subaru: suzuki: talbot: toyota: volvo: weidemann: danger contains. 3863, 3864, sb 099, sm 113, sc 7046 p. Kunststoff 5 l, original sct luftfilter filter. Liqui moly leichtlauf high tech 5w-40 kanister kunststoff 1 l.
Original liqui moly leichtlauf high tech 5w-40 kanister. Original sct'lfilter, original sct kraftstofffilter filter. Service, servicekit, inspektionskit, wechselset, wechselkit.
Wartung - pflege / inspektion. 0710 vw 502 00 vw 505 00.
Acea a3 acea b4 api sn api cf bmw longlife-01. Mb-freigabe 229.5 porsche a40 renault rn 0700 renault rn. The item \"filter inspection sketch liqui moly oil 6l 5w-40 for fiat ducato bus 244 z\" is on sale since Sunday, January 12, 2020.
It is in the category \"auto, motorcycle - parts, accessories-auto parts -revision kits\". The seller is \"qrparts24\" and is located in leipzig. This item can be shipped to the following countries: America, Europe, Asia, Australia.
reference number oe: 3863, 3864, sb 099, sm 113, sc 7046 p
product group: engine part
manufacturer's authorization: acea a3 acea b4 api sn api cf bmw longlife-01
manufacturer: yes
: yes
ean: 4061667432227
scosity: 5w40
seed domain: maintenance - pflege / inspection
surface structure: nine
application: motor vehicle
manufacturer part number: 11237565
oe/oem reference number: inspection package, inspection kits
mark: liqui moly, sct germany
manufacturer's authorization2: 0710 vw 502 00 vw 505 00
manufacturer's authorization1: sharing mo 229.5 porsche a40 renault rn 0700 renault rn
unit: 6l
type: engine oil, air filter, oil, fuel filter
fabricant: qr-pieces