Mannol 7l Extreme 5w-40 Engine Oil Filter Mann + Luft Fiat Ucato Bus 250 120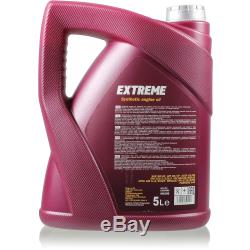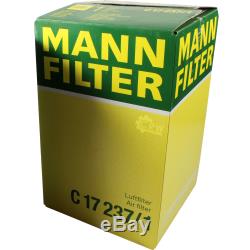 Mannol 7l Extreme 5W-40 engine oil + mann - filter Luft fiat ucato bus 250 120. This product has been automatically translated. If you have questions, feel free to contact us.
1x original air filter mann. 1x original mann filter pollen filter air filter interior. 1x Original mann fuel filter. 1x Original mann oil filter.
1x 5 liters of origin mannol extreme api 5W-40 engine oil sn / fc. 2x 1 liter of mannol origin extreme 5W-40 engine oil API sn / cf.
Protects almost 100% of allergens released. Prevents the penetration of mold and bacteria. Stops dust almost completely fine. Binds harmful gases such as ozone, nitrogen oxides or sulfur dioxide. Filtration nearly 100%, even small particles.
Significant reduction of diesel soot. Extends the ability to concentrate and avoid headaches. M 22 x 1.5. Opening pressure of the shunt valve.
Article number of the recommended special tools. Mannol Extreme 5W-40 API sn / cf motor oils for cars and vans> engine oils with low friction. SAE 5W-40 API sn / cf Acea A3 / B4 MB 229.3 / 226.5 gm opel ll-a / b-025 porsche a40 Renault RN0700 / 0710 Fiat 9.55535-m2 VW 502.00 / 505.00. Please compare the usability with the necessary approvals for your vehicle before use.
You can find them in the manual for your vehicle or contact your specialist workshop in this regard. We accept no liability for improper use. As part of the sale of motor oil or combustion gears and oil filters, we, as dealers are required in accordance with Regulation on waste oils, to inform us about the regulations and obligations applicable. We emphasize that waste oil or oil filters and waste containing oil that regularly occur during oil changes are dangerous goods which must be eliminated in a manner respectful of the environment. You can return the oil in the amount of fresh oil bought from us, as well as oil filters and waste oil containing regularly occurring during the oil change, free to our point of sale for hours, or you can send them for free disposal in containers approved for the transport of dangerous goods. Used oil must be labeled as dangerous goods during shipment. It should not be sent by parcel without special packaging. Each cartridge must first be welded in a box insert film extra thick. The shipment can take place in the special box dangerous goods, which corresponds to the IATA regulations. The package should also contain an absorbent material approved. For details on packaging regulations and shipping prices, please contact your parcel service.
The packaging and shipping costs are the responsibility of the buyer. Alternatively, the waste oil return is generally also possible in stations or in recycling points such as recycling yards or recycling of waste. Your shop can also dispose of used oil when changing the oil.
Mannol the extreme 5w40 is a hydrosynthétique based universal engine oil designed for gasoline and diesel engines of today with or without turbocharger. It offers high pumpability in cold starts, reliable lubrication and protection against wear. A best in a wide temperature range.
Meets engines with extended drain intervals. 6479 c9; 1906 c4; 1444 sr; 1444 sg; Including 6447; 16 06 26 76 80; 1906 98. 4011558000820; 4011558057657; 4036021102542; 4036021525518; 4011558757908; 4011558394202. 5801985959; 77363600; 71753841; 77365864; 1354884080; 77362340; 8094872; 77364063; 77365902; 1359644080; 71746975. SAE 5W-40; mb 226.5; Fiat 9.55535-m2; ACEA A3 / B4; Porsche a40; Renault rn0710; ACEA A3 / B4; Porsche a40; Renault rn0710; api sn; opel gm-ll-a-025; vw 502.00; api sn; opel gm-ll-a-025; vw 502.00; mb 229.3; Renault RN0700; mb 229.3; Renault RN0700; api cf; opel gm-II-B-025; vw 505.00; api cf; opel gm-II-B-025; vw 505.00; SAE 5W-40; mb 226.5; Fiat 9.55535-m2.
299 5811; 5040 91563; 500038751. Mn7915-1; mn7915-5; fp 2544; w 914/28; have x 723; c 17 237/1. 818,012; 95599700; 4708795; 813,569; 818,032; 4807214; 8135690.
1444 sg; 1606267680; 1444 sf; 6447's; 6479 c9; 1906 97; 1906 c4; 1444 sr. 15411-84e60; 15411-84e50; 15411-84e60-000; 15411-84e50-000; 15411t84e60. The articles in this offer are basically not original parts unless they are explicitly marked as such. Are for comparative purposes only and may vary.
All logos, brand names and trademarks used are the property of their owners. All products are tested for quality. Generally everything in stock - so no waiting time. 24 months warranty on new products.
12 months warranty on used products. Our service continues to sell the goods for you. Manufacturer size 303 mm 97 mm 169 169 mm height 25 mm length 235 mm width manufacturer 250 mm size 99 mm 25 mm 67 manufacturer information 67 mm 78 mm size manufacturer 63 mm 72 mm 93 9 2.5 bar ls info 2 93 mm sAE 5w40 manufacturer mannol remark amount 5 l 1 l 5w40 citroën: ean: fiat ford: 1596 790 iveco: no. Opel Peugeot: subaru: suzuki opel.
Service servicekit, inspektionskit, wechselset, wechselkit. Wartung & pflege / inspektion. Opel gm-ll-a-025, Opel gm-II-B-025, porsche a40. RN0700 Renault, Fiat 9.55535-m2, VW 502.00, VW 505.00. SAE 5W-40 API sn, API CF, ACEA A3 / b4 mb 229.3, 226.5 mb.
The item \\ kits revision \The seller is \This item can be shipped to the following countries: america, europe, asia.
reference number oe / oem: package inspection, inspection kits <\/ li>
product group: Engine oil filter <\/ li> Fuel
Manufacturer's Authorization: RN0700 Renault, Fiat 9.55535-m2, VW 502.00, VW 505.00 <\/ li>
Package: yes <\/ li>
ean: 4061174917743 <\/ li>
viscosity SAE: 5W40 <\/ li>
scope: maintenance & pflege / inspection <\/ li>
Surface structure: nine <\/ li>
Product type: motor oil, <\/ li> filter
Application: motor vehicles <\/ li>
Manufacturer Part Number: 10933086 <\/ li>
brand: mannol <\/ li>
authorization fabricant3: SAE 5W-40 API sn, API CF, ACEA A3 / b4 mb 229.3, 226.5 mb <\/ li>
authorization fabricant2 renault rn0710 <\/ li>
authorization fabricant1 opel gm-ll-a-025, Opel gm-II-B-025, porsche a40 <\/ li>
Manufacturer warranty: Yes <\/ li>
Type: oil engine, <\/ li> filter
Manufacturer: mannol, mann-filter <\/ li> <\/ Ul>