Mann-filter Inspection Set Fiat Ducato Bus 250 290 115 Multijet 20 D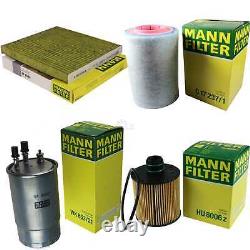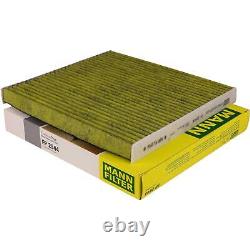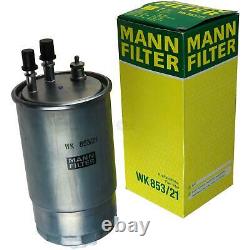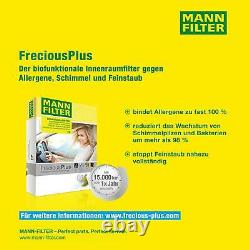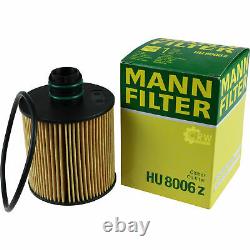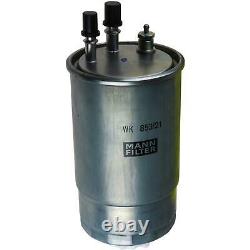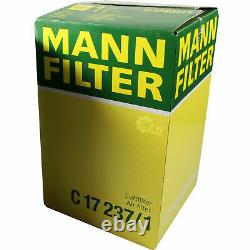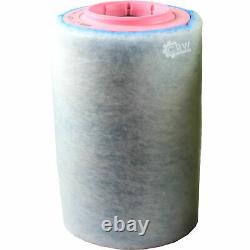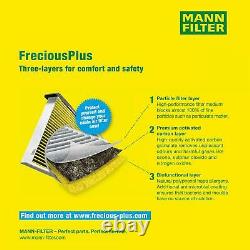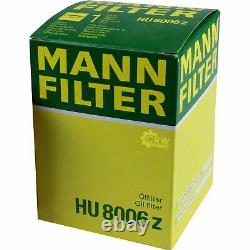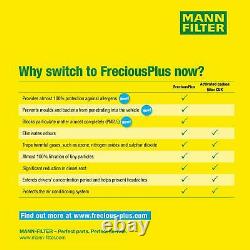 Mann-filter inspection set fiat ducato bus 250-290-115 multijet 20 d. This product sheet has been automatically translated. If you have any questions, please contact us. 1x original mann oil filter. 1x air filter of origin mann. 1x original mann fuel filter. 1x filter mann original indoor indoor air filter pollen filter. Protects almost 100% of the allergens released. Prevents the penetration of mould and bacteria. Stops fine dust almost completely.
Links harmful gases such as ozone, nitrogen oxides or sulphur dioxide. Filtering almost 100%, even small particles. Significant reduction in diesel soot. Extends the ability to concentrate and avoid headaches.
Original spare room number (oe). 1444 sg; 6447 yc; 6479 c9; 1606384980; 1901 a3; 1444 Sr. 77364063; 71754237; 1359644080; 77363657; 55223416; k68103969aa; 1354884080.
Wk 853/21; hu 8006 z; fp 2544; c 17 237/1. 1444 Sr; 1444 sg; 1444 sf; 6447 ya; 6479 c9; These figures are only for comparison purposes. The items presented in this offer are basically not original exhibits, unless they are expressly marked as such. Are for comparison purposes only and may vary.
All logos, brand names and trademarks used are the property of their owners. All products are quality checked. Generally all in stock - so no waiting time. 1 month's right of withdrawal. 24-month warranty on new products.
12-month warranty on second-hand products. Our service keeps selling the goods for you. The size 101 mm manufacturer filter man 32 mm 72 72 info with joint 72 mm 72 mm size 303 mm manufacturer filter man 97 mm 169 air filter 169 mm size 170 mm filter manufacturer man 84 8 - entrance 9 mm 84 mm size 25 mm manufacturer filter man length 235 mm width 250 mm chrysler: 68103969aa citro: ean: fiat: ford: no.
1729 042, bs51-9155-a; fiat: 77363657; Opel: 818020; Vauxhall. Hu 8006 z; ean: 4011558025267.
Citroen: 1444 sg, 1444 sr; ean: 4011558000820; Nr. Citroen: 1606384980, 1901 a3; Peugeot: 1606384980; Ford. Fiat: 1354884080, 1359644080; Peugeot: 1444 sf, 1444 sg, 1444 sr. K68103969aa; Opel: 650111; Chrysler: 68103969aa; Vauxhall. Peugeot: 6447 ya, 6479 c9; Citroon: 6447 yc, 6479 c9; Fiat. Suzuki: 16510-62m00, 16510-62m00-000; fiat: 55223416, 71754237.
Aussendurchmesser: 84; einlass-[mm]: 9. Hàhe: 101; innendurchmesser: 32; aussendurchmesser: 72. Lieferumfang: original mann kraftstofffilter filter; he: 170.
Lieferumfang: original mann luftfilter filter; he: 303. Original mann innenraumfilter: hehe: 25. Original mann's: lieferumfang: original mann's .
Luftfilter, filter, krafstofffilter, fuel filter. Oil, engine air filter, cabin air filter, fuel filter. The item \"mann-filter inspection set fiat ducato bus 250 290 115 multijet 20 d\" is on sale since Thursday, July 16, 2020.
It is in the category \"auto, motorcycle - parts, accessories-auto parts -revision kits\". The seller is \"auto-carparts24\" and is located in leipzig. This item can be shipped to the following countries: America, Europe, Asia.
reference number oe5: k68103969aa; opel: 650111; chrysler: 68103969aa; vauxhall:
product group: filter set
reference number oe7: citro: 1444 sg, 1444 sr; ean: 4011558000820; n: c 17 237/1;
reference number oe6: 9551489; no: hu 8006 z; ean: 4011558025267;
: yes
product type: air filter, filter, gas filter, fuel filter
type of manufacturer: brand manufacturer
reference number oe9: 95513399, 95514995; no.

: week 853/21; ean: 4011558966409;

surface structure: nine
editing: before
reference number oe8: citro: 1606384980, 1901 a3; peugeot: 1606384980; ford:
product group 1: cabin filter, air filter, pollen filter
application: motor vehicle
manufacturer part number: 10227276
mark: mann-filter
reference number oe1: 77364063; no: fd 2544; ean: 4011558057657;
manufacturer: yes
type: oil, air filter engine, air filter cabin, fuel filter
oe/oem reference number: inspection package, inspection kits
reference number oe3: peugeot: 6447 ya, 6479 c9; citroon: 6447 yc, 6479 c9; fiat:
: 250
reference number oe2: 1729 042, bs51-9155-a; fiat: 77363657; opel: 818020; vauxhall:
: 235
reference number oe4: fiat: 1354884080, 1359644080; peugeot: 1444 sf, 1444 sg, 1444 sr;
reference number oe: suzuki: 16510-62m00, 16510-62m00-000; fiat: 55223416, 71754237,
fabricant: sct