Mahle / Knecht Inspection Set Sct Filter Set Engine Wash 11615844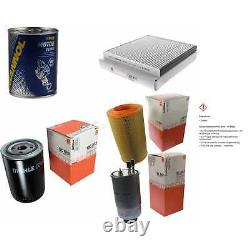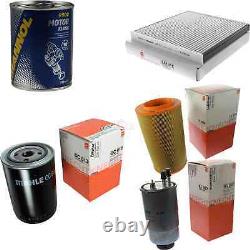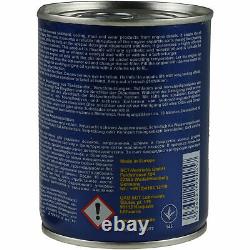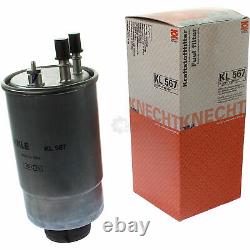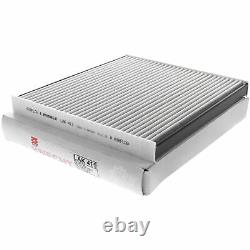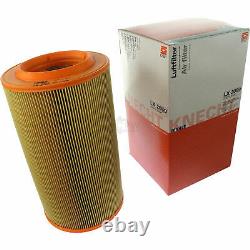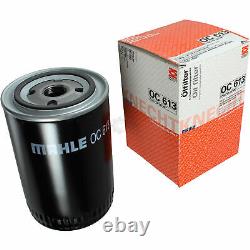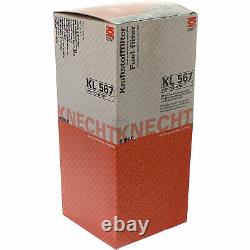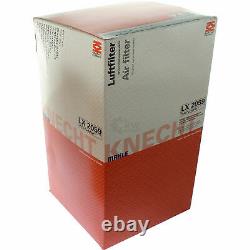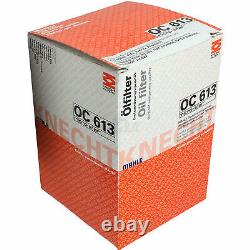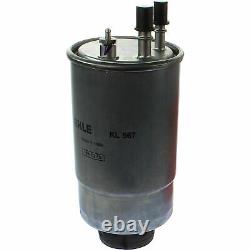 Mahle / knecht set inspection set of filters sct washing engine 11615844. This product sheet has been automatically translated. If you have any questions, please contact us. 1x original mahle oil filter.
1x air filter original mahle. 1x original mahle fuel filter. 1x original mahle filter, indoor pollen filter, indoor filter. 1x original mannol 9900 engine flush.
Opening pressure of the bypass valve. Diameter of the sealing ring.
Item number of the recommended special tool. Mannol flushing the engine 10 min. Is a special cleanser to remove residue, dirt, sludge and wear products from engine parts. It cleans the oil system and line filters of oil pumps.
During cleaning, it provides reliable lubrication, which prevents wear on individual engine parts. Thanks to the special detergent-dispersant additive, it guarantees a very efficient and safe disposal of combustion residues. This product is miscible with allen synthetic and mineral oils and can be used to clean allen petrol and diesel engines with or without catalytic converter and with or without turbocharger.
The contents of a can are sufficient for up to 6 litres of oil. Add engine rinse with hot engine oil before changing oil. After adding the engine about.
Then change the oil and filter. Motor flush is compatible with allen commercially available motor oils.
Not suitable for bikes with oil bath clutch!! original spare room number (oe). 1606402680; 1109ag; 1606267580; 1444sq; 1606384980; 1109at; 1901a3; 1109z8; 1444qv.
1359646080; 1349042080; 8094864; 71773197; 1359643080; 77363657; 71749828. 1109at; 1901a3; 1109z7; 1444qt; 1606402680; 1444sq; 1109af; These figures are only for comparison purposes.
The items presented in this offer are basically not original exhibits, unless they are expressly marked as such. Are for comparison purposes only and may vary.
All logos, brand names and trademarks used are the property of their owners. All products are quality checked. Generally all in stock - so no waiting time.
1 month's right of withdrawal. 24-month warranty on new products. 12-month warranty on second-hand products. Our service keeps selling the goods for you. Qrparts24 manufacturer mahle 2.5 bar size 142.6 mm m22x1.5 93 mm 71.6 mm 10 nm - 62.5 mm m22x1.5 manufacturer mahle 302 mm 164 93 mm 133 mm 100 mm 164 mm mahle 205 mm 81 mm 9.49 mm 90 mm 7.89 mm 7.89 mm mahle 25 mm width 205 mm mannol notice amount 350 ml citroon: ean: fiat: ford: gmc: iveco: iveco: 2995655 non.
1109at, 1109z7; ford: 1729042, bs519155aa; original mahle. 1349042080, 1359643080, 1359646080, 71749828, 8094864; Opel. 1444qv, 1444sq, 1606402680, 1109ag, 1109at, 1109z8, 1606267580. 70365407, 72352938, 70375934, 70381249; fiat: 71773197, 77363657.
818020; gmc: 95514995; iveco: 2995655. Peugeot: 1606384980, 1901a3, 1444qt, 1444sq, 1606402680, 1109af. 350ml original mannol 9900 motor flush. Innenraumfilter, original mahle luftfilter filter.
Original mahle filter innenraumluft pollenfilter. Service, servicekit, inspektionskit, wechselset, wechselkit. Wartung - pflege / inspektion.
The item \"mahle / knecht inspection set of filters sct washing engine 11615844\" is on sale since Monday, May 25, 2020. It is in the category \"auto, motorcycle - parts, accessories-auto parts -revision kits\". The seller is \"qrparts24\" and is located in leipzig. This item can be shipped to the following countries: America, Europe, Asia, Australia.
oe/oem reference number: inspection package, inspection kits
product group: filter for fuel, cabin, air, oil
reference number oe6: ean: 4036021990057; no:: 9900; citro: 1606384980, 1901a3
reference number oe3: peugeot: 1606384980, 1901a3, 1444qt, 1444sq, 1606402680, 1109af
: yes
seed domain: maintenance - pflege / inspection
reference number oe2: 1349042080, 1359643080, 1359646080, 71749828, 8094864; opel
ean: 4061964117636
surface structure: nine
application: motor vehicle
reference number oe4: 1444qv, 1444sq, 1606402680, 1109ag, 1109at, 1109z8, 1606267580
reference number oe: 1109at, 1109z7; ford: 1729042, bs519155aa; original mahle
manufacturer part number: 11615844
reference number oe5: 818020; gmc: 95514995; iveco: 2995655
mark: mannol, mahle / knecht
reference number oe1: 70365407, 72352938, 70375934, 70381249; fiat: 71773197, 77363657
manufacturer: yes
type: set of filters
fabricant: qr-pieces