Frein Discs Front Plate For Fiat Ducato Choose/chassis 230 230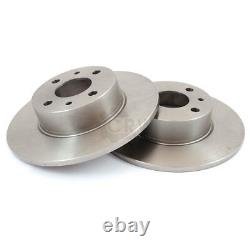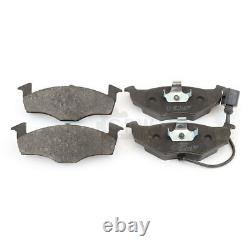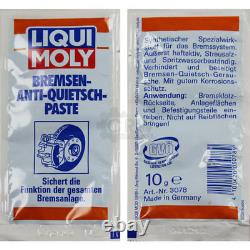 Brake discs front pads for fiat ducato choose/chassis 230 230. This product sheet has been automatically translated. If you have any questions, please contact us. 2x game: 2x front brake discs.
1x set of brake pads (4 pieces, left - right) incl. Assembly side: front diameter axle [mm]: 279 thickness of brake disc [mm]: 18 minimum thickness [mm]: 15.9 height [mm]: 65.8 center diameter [mm]: 73 rim hole number: 5 type of brake disc: full. Contents of the delivery voucher. The thickness of the brake disc.
Number of holes on the rim. Set of incl brake pads. Right (passenger side) and left (driver's side). Brake pad kit, disc brake: thickness/ strength: 19.5 [mm] width: 144.9 [mm] height: 60.9 [mm] certification mark: - with e-mark wear warning contact: incl.
Contact warning of wear wva number: 23602 / 19.5 braking system: lucas. Number of wear indicators [per axis].
Special synthetic lubricant properties for the braking system. Extremely adhesive, resistant to road salts and splashes.
Prevents and eliminates brake squeaks that occur between brake stirrup pistons or contact points and brake pads appear. Ensures the entire braking system works and prevents welding or rusting of the rims on the wheel hub. Operating temperature range: - 40 c to 1200 compliant use for the entire braking system on disc brake pads, bolts, pins, as well as contact points for drum brakes. Separation paste for centering rings on aluminum rims, connection points between rims and wheel hubs, as well as other plug and screw connections. Container content: 10 g plastic cushion application note rub the back of the brake pad, contact surfaces and fastener parts.
Do not bring friction surfaces. Original spare room number (oe). Alfarome / fiat / lanci. 9.948.626; 42 46 j9; 9948626; 4246 j8; J8, 4249. 4249:6; 4246 j9; 4249-h6; 4249. J9; 1606308980; 1300500080; 4249c9; 77362235; 4246b9; e169015; 4246 b9; 4249:06; B9; 4246j8; 4246j9; 42.46.
E169015; 4249:06; 4246j8; 71738910; 4246j9; 9948626; 4246 j8; J8, 4249. 4249:6; 4246 j9; 4249. J9; 1606308980; 1300500080; 4249c9; 77362235; 4246b9. 71.738.910; 1.300.500.080; 1300 500 080; 1300500080; 77.362.235; 77362235; 9.948.626; 13 00 500 080; 7 173 891 0; 4246j8; 71738910; 4246j9; 9948626; 13 005 000 80; 7 736 223 5.
4246j8; 4246j9; 4246 j9; 4249. J9; 1606308980; 77362235; 42.49.
H6; 4249 c9; 4246-j9; 4249c9; 4246b9; 42.46. J8; e169015; 4249:06; 4246-j8; 1300500080; 42 46 j8; 9948626; 4249-h6; 9.948.626; 4246 j8; 4249-c9; J8, 4249. 4249:6; 16 063089 80. 4246j8; 4246j9; 4249c9; These figures are only for comparison purposes. The items presented in this offer are generally not original parts, unless they are expressly reported as such. Are for comparison purposes only and may vary. All logos, brand names and trademarks used are the property of their owners. All products are quality checked. Usually everything is in stock - so no waiting. 1 month's right of withdrawal. 24-month warranty on new products. 12 months warranty on second-hand products. Our service does not stop at selling goods for you. Crw-carparts the description of face the full description 18 mm diameter 5 holes the size 73 millimeter weight kg 7.38 kg width thickness size 1 by axis 1 liqui moly properties content alfa romeo: citro: decree: iveco: 1300500080 lancia: peugeot: 1300500080. 65.8 mm, 60.9 mm. Fiat: 1300500080, 9948626; Peugeot: 4246j9, 4246j8.
Bremskit, bremssatz, set, satz, kit. Vorne, rechts (beifahrerseite) und links (fahrerseite). The item \"brake discs front pads for fiat ducato choose/chassis 230 230\" is on sale since Monday, July 13, 2020. It is in the category \"auto, motorcycle - parts, accessories-auto parts-braking-full braking kits\". The seller is \"crw-carparts\" and is located in leipzig.
This item can be shipped to the following countries: America, Europe, Asia, Australia.
product group: brake system
: yes
article: 50069197
thickness/force: 19.5 mm
surface structure: nine
brake discs: full
manufacturer: yes
type: brake discs
: 65.8 mm, 60.9 mm
reference number oe: fiat: 1300500080, 9948626; peugeot: 4246j9, 4246j8
ean: 4057645867938
minimum equalizer: 15.9 mm
fabricant: qr-pieces
oe/oem reference number: brake pads, brake, brake disc pad kit
placement: right
suring: incl. 'wear
see ribs: front, right (passenger side) and left (driver's side)
centrage: 73 mm
diameter [mm]: 279 mm
brake disc thickness: 18 mm
mark: qr-parts
thring number of holes: 5 -hole
manufacturer part number: 1239395