Engine Oil 7l Mannol Elite 5w-40 - Mann-filter Fiat Ducato Bus 250 100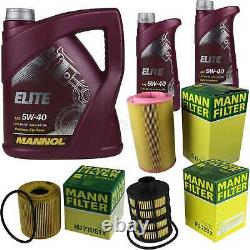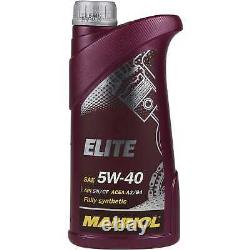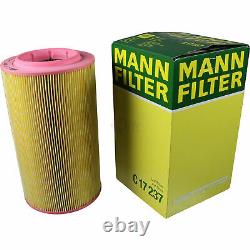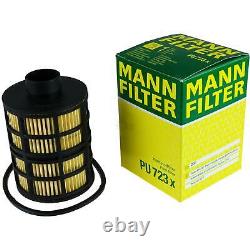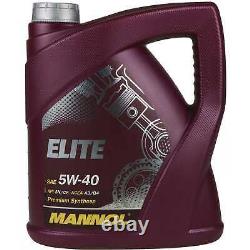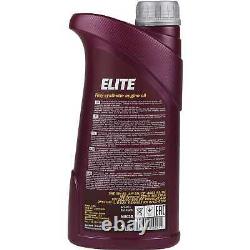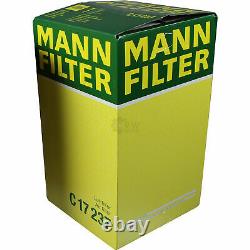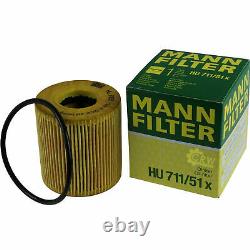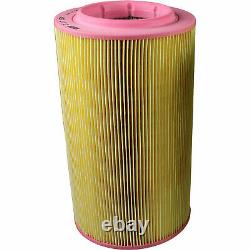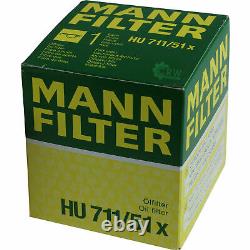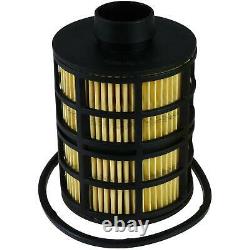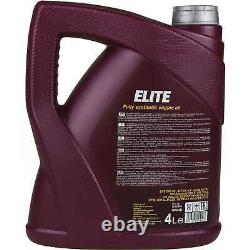 Engine oil 7l mannol elite 5w-40 - mann-filter fiat ducato bus 250 100. This product sheet has been automatically translated.
If you have any questions, please contact us. 1x air filter of origin mann.
1x original mann oil filter. 1x original mann fuel filter. 1x 5 liters of original mannol elite 5w-40. 2x 1 litre original mannol elite 5w-40 api sn / cf. Mannol elite 5w40 is a modern engine oil for use in car engines with and without turbocharger.
Offers an easy cold start and exceptional cleanliness of engine parts. It has optimal viscosity over a wide temperature range. Due to the high thermo-oxidant stability, it allows a longer oil drain interval. Api sn api cf acea a3 / b4 mb 229.3 mb 226.5 gm-ll-a-025 gm-ll-b-025 porsche a40 rn0700 rn0710 fiat 9.55535-m2 vw 502.00 vw 505.00. Please compare usability with the necessary approvals for your vehicle before using it.
You can find them in the manual of your vehicle or contact your workshop in this regard. We do not accept responsibility for improper use. In the context of the sale of motor oil or internal combustion gears as well as oil filters, we, as resellers, are required, in accordance with the regulations on used oils, to inform us about applicable regulations and obligations. We would like to point out that used oils or oil filters and oil-containing waste that occur regularly during oil change are dangerous goods that must be disposed of in an environmentally friendly manner.
You can return used oil in the amount of fresh oil purchased from us, as well as oil filters and oil-containing waste that regularly occur during the oil change, free of charge at our point of sale during business hours, or you can send them to us for free disposal in approved packaging for the transportation of dangerous goods. Used oil must be labelled as a dangerous commodity during shipping. It should not be sent by parcel without special packaging. Each cartridge must first be welded into an extra thick film box insert.
Shipping can only take place in the special dangerous goods box, which corresponds to the iata regulations. The packaging must also contain an approved absorbent material.
For more details on packaging regulations and shipping prices, please contact your parcel service. The cost of packing and shipping is the responsibility of the buyer. Alternatively, the return of used oil is usually also possible at gas stations or recycling points such as recycling sites or waste recycling. Your workshop can also remove used oil when replacing the oil. Original spare room number (oe). 11 42 7 622 446; 11 42 7 557 012. 16 06 26 76 80; 1109 cl; 16 111 582 80; 1109 z0; 9467645180; 1906 98; 1109 ck; 1444 sq; 1109 x4; 1109a; 9467645080; 1109 aj; 1606402680; 1906 c4; 1109 ah; 119x4; 1444 qv; 1109 z2. 9467558380; 77365902; 9662282580; 1359643080; 71746975; 77363600; 71753841; 9467521180; 77365864; 1349042080; 77362340. 6g9q-6744-aa; 1303 476; 6c1q-6744-aa; 1727 561; 1427 824; 1373 069; 6c1q-6744-ba; 1596 790; 1717510.
Acea a3 / b4; renault rn0710; fiat 9.55535-m2; porsche a40; vw 505.00; api cf; opel gm-ll-a-025; sae 5w-40; mb 229.3; renault rn0700; api sn; opel gm-ll-b-025; 502.00. Mn 982419; mn 982159; mn 982380. Mn7903-1; pu 723 x; c 17,237; hu 711/51 x; mn7903-5. 818012; 95599700; 4708795; 813569; 818032; 4807214; 8135690.
1906 c4; 1109 ah; e149234; 1611158280; 1606267680; 1444 qt; 1109 cl; 1109 z1; 9467645180; 1109 ck; 1444 sq; 1109 y9; 9467645080; 1906 97; 1109 aj; 1109 x3; 1606402680. 15411-84e50-000; 15411t84e60; 15411-84e60; 15411-84e50; 15411-84e60-000. These figures are only for comparison purposes.
The items presented in this offer are basically not original exhibits, unless they are expressly marked as such. Are for comparison purposes only and may vary. All logos, brand names and trademarks used are the property of their owners. All products are quality checked. Generally all in stock - so no waiting time. 1 month's right of withdrawal. 24-month warranty on new products.
12-month warranty on second-hand products. Our service keeps selling the goods for you. The height 303 mm 97 mm 169 svhc 169 mm height 69 mm 29 mm 29 mm 64 info with joint svhc 64 mm height 99 mm 25 mm 67 info with joint svhc 67 mm api sn api cf 229. 3 mb 226.5 rn0700 rn0710 vw 502.00 vw 505.00 mannol notice amount 1 l 5 l 5w40 bmw: citro: ean: fiat: ford: ford usa: jaguar: c2s 43999 non. Opel: peugeot: subaru: suzuki: toyota: opel: volvo.
Service, servicekit, inspektionskit, wechselset, wechselkit. Wartung - pflege / inspektion. Opel gm-ll-a-025, porsche a40, renault rn0700, fiat 9.55535-m2. Sae 5w-40, api sn, api cf, acea a3/b4, mb 229.3.
Vw 502.00, vw 505.00, renault rn0710, opel gm-ll-b-025. The item \"engine oil 7l mannol elite 5w-40 - mann-filter fiat ducato bus 250,100\" has been on sale since Friday, July 10, 2020. It is in the category \"auto, motorcycle - parts, accessories-auto parts -revision kits\". The seller is \"auto-carparts24\" and is located in leipzig.
This item can be shipped to the following countries: America, Europe, Asia.
oe/oem reference number: inspection package, inspection kits
product group: engine oil, air filter, oil, fuel
manufacturer's authorization: sae 5w-40, api sn, api cf, acea a3/b4, mb 229.3
: yes
ean: 4061174933187
scosity: 5w40
seed domain: maintenance - pflege / inspection
surface structure: nine
product type: motor oil, filter
application: motor vehicle
manufacturer part number: 10934820
mark: mannol
manufacturer's authorization2: opel gm-ll-a-025, porsche a40, renault rn0700, fiat 9.55535-m2
manufacturer's authorization1: vw 502.00, vw 505.00, renault rn0710, opel gm-ll-b-025
manufacturer: yes
type: engine oil, filter
fabricant: mannol, mann-filter